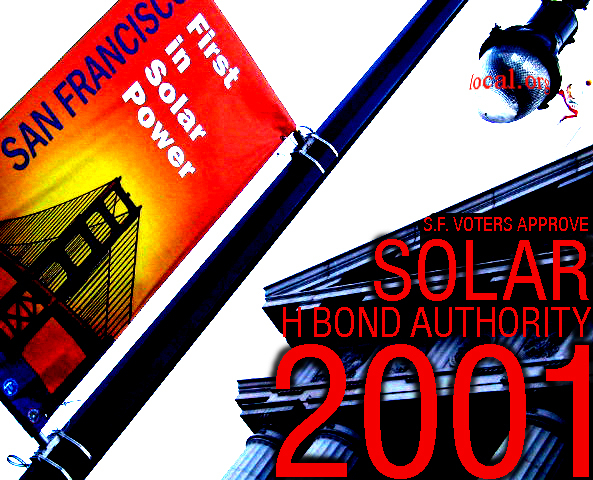 In addition to founding Community Choice Aggregation, Local Power has long boasted of our
founder
's invention of the
Solar Bond
or Green Bond ("H Bond" from Proposition H, the original bond authority adopted by San Francisco Voters in 2001). However, we have long been frustrated by the how very long it has taken CCA programs in the Bay Area and California to implement H Bonds. Climate change does not forgive slowness, and neither do we.
As we have been telling CCA leaders for over nearly two decades, the buying power of municipal aggregation must combine with municipal financing through revenue bonds to transform a CCA into something much, much more powerful. From 2008 when Marin Clean Energy chickened out, and then San Francisco Supervisors lost their courage in 2013, we were afraid CCAs would never see the light.
But finally, this past week, Local Power's leadership finally paid off - however belatedly - with the announcement of the issuance of $5 Billion in revenue bonds by CCAs to build renewable energy in California. The "Clean Energy Project Revenue Bond" is a renamed H Bond, the original CCA revenue bond authority written by Local Power and adopted by San Francisco in 2001. Local Power drafted San Francisco's CCA law to combine CCA with revenue bonds for the first nearly twenty years ago, in 2004. Since then, only San Francisco had ever used the authority. But now the H Bond, like CCA itself, has hit prime time. Five billion dollars is very big news indeed: the level of big we have long awaited. Climate change scale: community wide scale.

California CCAs East Bay Community Energy, MCE, Silicon Valley Clean Energy, Pioneer Community Energy, and Clean Power Alliance have all issued clean energy revenue bonds, claiming to save an estimated $840 million for California electricity customers over the next 30 years. Each of the CCAs entered into a long-term power supply agreements for sources like solar, wind, geothermal, and hydropower. The municipal revenue bond or H Bond issuer – in this case, California Community Choice Financing Authority (CCCFA) – issued tax-exempt bonds to fund a prepayment of energy that is to be delivered over the contract length. The CCA energy supplier utilizes the bond funds and provides a discount to the CCA on the power purchases based on the difference between the taxable and tax-exempt rates. This approach was articulated for San Francisco in Local Power's H Bond Action Plan in 2007 and with the help of our attorney Howard Golub and the bond team at Nixon Peabody in 2009.
Now it is a very real thing at the kind of scale climate action demands, and "CCA 2.0" - the new model for municipal aggregation in California that Local Power LLC invented 20 years ago after coauthoring the nation's original CCA law in Massachusetts - is finally complete. Congratulations, everyone.

CCA 2.0 now not only provides the most power in California, they are using H Bonds to achieve a whole new level of decarbonization, sustainability, and energy independence.

"CCCFA's member agencies have now issued six clean energy prepayment transactions ranging from $460 million to $1.2 billion," said CCCSF, which boasts that "this prepayment structure allows California CCAs to reduce long-term costs on clean energy projects by issuing tax-exempt clean energy revenue bonds to prepay for the renewable energy....These transactions have locked in $210 million in savings for customers with the potential to save $840 million over the next 30 years according to representatives."
The California Community Choice Financing Authority (CCCFA) was established in 2021 by Central Coast Community Energy, Clean Power Alliance, East Bay Community Energy, MCE, Pioneer Community Energy, and Silicon Valley Clean Energy.
Local Power established CCA in California and started, or helped to start, many of the first CCAs in the state to implement CCA 2.0. Local Power LLC has now moved on to "CCA 3.0," which its founders are implementing in states like New York. The CCA 3.0 model brings new, additional leverage to grow the climate impact of CCA in profound and even more powerful ways than CCA and H Bonds. CCA 3.0 activates a new layer beyond just government and finance: people. With people properly engaged and empowered to "Own Your Power," real scaled local climate action will be within the grasp of citizens in Anytown, America. Click on the CCA 3.0 link to get a free white paper on how Local Power's new model for energy transformation might work in your community tomorrow.